Trail of the Coeur d'Alenes

Sponsor: Helena Bicycle Club

Dates: Friday, August 13 through Sunday, 15th, 2021

For: Current Helena Bicycle Club Members, helmets required. Non-members who want to join the ride may join the club.
Ride Leader: Dave Campana. If you plan to join the ride, let him know (d2campana@yahoo.com).  He will keep a spreadsheet of riders and keep everyone updated.

Lodging: Make your own reservations at the Wallace Inn, 1-208-752-1252.

Description: The Trail of the Coeur d'Alenes is a paved, railbed trail stretching from Mullen, ID to Plummer, ID. The full length is 73.2 miles. The trail goes through some scenic mountains and valleys next to rivers, off the highway. There are very few roads to cross.
Plan: Drive over to Wallace, ID on Friday, August 13. After arriving, you may want to take a ride on your own East up the trail to Mullen. Then ride on Saturday as a group and Sunday morning before your departure.

Have dinner as a group on Friday night or dinner on your own. After riding on Saturday, we will eat again as a group or dinner on your own. Wallace typically has excellent dinning options; whether the options will be open due to COVID is unknown. However, Dave will update closer to the date.

Saturday – meet in front of the hotel at 9:00 a.m. then head to the trail (across the street) and head West. We can ride towards Harrison, then turn around heading back to Wallace. Take your own snacks and water. There are a few places where you can purchase food.
Sunday – meet in front of the hotel at 8:30, and ride East or West return then check out and head home.

Individuals will make their own carpooling arrangements (likely with roommates). The group will meet in Wallace.

What to do if you are interested:

1. Invite a friend.
2. Call the Wallace Inn at 1-208-752-1252 to reserve your room (coordinate your own room-sharing please)
3. Contact Dave Campana and let him know that you are participating and whether you have made reservations at the Wallace Inn. (d2campana@yahoo.com)
4. Put it on your calendar!

What to Bring:

Water and snacks for the road
Sunscreen
Eye protection
Riding gear appropriate to the weather or surprise weather (rain gear)
Overnight toiletries
Change of clothes for after riding
Overnight sleepwear
Flat repair and minor adjustment tools

Things to do in Wallace:

Walk around the historic downtown.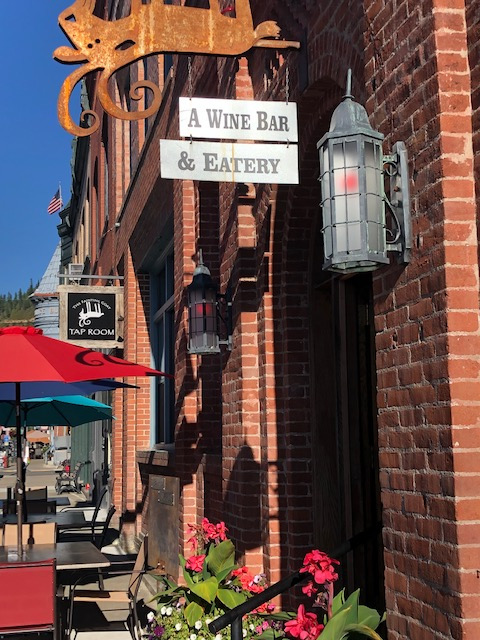 See the Railroad Museum.
Check out the brewery
Visit and take a picture at the center of the universe